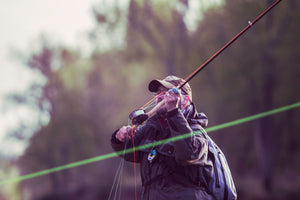 Frank Smethurst's Ozark Spey Day--Sunday, April 15th

Join Frank Smethurst and the McLellan's Fly Shop crew for our annual Ozark Spey Day on Sunday, April 15th.
Designed to be an introductory to intermediate speycasting clinic that coincides with the arrival of White, Striped and Hybrid Bass into the open gravel bar swing water of the Ozarks. Learn how to setup, rig, cast, search and swing flies with spey and switch rods while fishing for these migratory fish!
You do not need to own or bring a rod, complete demo outfits from the Scott Fly Rod Company and Echo Fly Fishing will be provided, but if you have a rod that you would like to bring, that's great too.
We will cover most styles, and will focus on the methods of Spey casting that will help you catch more fish wherever you fish with a fly rod.
Class size is limited to ten spots to ensure plenty of hands-on casting instruction. We'll meet at Twin Bridges around 7:30am Sunday morning, do at least four hours of casting, and then end with lunch on the gravel bar. After lunch, feel free to stick around and put your new Spey casting skills to work on some white bass! The cost is $120 per spot, and all rods, reels, lines, lunch, drinks, etc. will be provided. For more information, or to reserve your spot, please contact the shop.
What to bring: waders and wading boots, rain coat (just in case) and any of your white bass fishing gear if you have time to stick around and fish after the class!
---