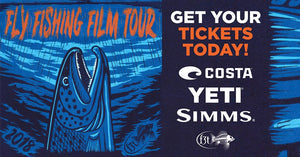 Fly Fishing Film Tour--F3T 2018

The F3T--one of the biggest, most entertaining events on the fly fishing calendar--is coming back to Fayetteville for a seventh year in a row on Monday, March 26th and Tuesday March 27th! We had so much fun at George's Majestic Lounge last year, we're headed back to Dickson Street! Our show has historically been one of the fastest to sell out on the Tour, so we'll have two screenings again this year. Doors open at 6pm show starts at 7pm both nights. Seating is limited, so be sure to lineup early to get a seat; however, there is plenty of standing room back by the bar.
Discount tickets ($14) for both shows are available at McLellan's Fly Shop.
---