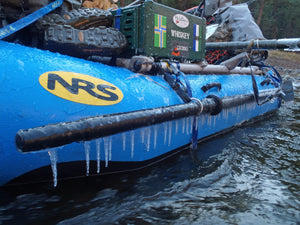 Winter Storm Bozeman vs. McFlyShop Steelhead Trip
We knew it was a gamble going steelhead fishing this late in the season, and just like what usually happens when I gamble, we lost! The first three days were perfect conditions—lows in the low 40's, highs in the 50's with water temperature hovering just above 50-degrees—and the fishing was decent too, swinging up a fish a day, but only landing one. No worries, I thought, I've got another ten days on the water, and the fishing only gets better further downstream…but then the bottom fell out.



As the arctic blast from Winter Storm Bozeman approached, the lows dropped into the teens and then the single digits with the highs never rising above freezing, causing the water temperature to plummet to the mid 30's, making the fish lethargic and unwilling to chase our flies.


With our spike tent and woodstove, we could handle the cold air temperatures (as long as we had enough firewood), but we couldn't do anything about the cold water temps. Regardless, we pressed on for the next couple of days, fishing hard in the frigid conditions—step, cast, swing…break ice out of the rod guides, blow on your fingers to try and get the feeling back, pull your hood down tighter around your face…step, cast, swing—hoping against most, if not all reason to feel a tug on the other end of the line.



After a particularly cold night of nine-degrees, we were packing up our fourth camp to float down to what is traditionally our last camp before the takeout when we noticed the river looked a little different, not quite as liquid as it usually is—the river was turning to slush! First, just along the edges and slower current seams, but after we floated a couple of miles the entire surface of the river was the consistency of a Slushie! Now, if you've never rowed a heavy raft in a Slushie before, suffice it to say it doesn't make it any easier to maneuver!



By the time we reached what would normally be our last camp of the float, conditions had only gotten worse—instead of slush, the edges of the river had turned to solid ice that we had to stomp and break to get our rafts to shore. We had a decision to make, set up camp and hunker down for the night, or push for the takeout that we might not make before dark. After getting the weather report from Theresa via the satellite phone—lows of eleven degrees the next two nights—we knew what we had to do. We made the takeout just before dark and proceeded to set up camp one last time, and just like that, our steelhead season was over.



Until next year!
---