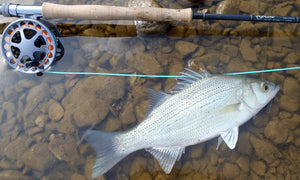 Twin Bridges Area - April 21, 2014
The white bass fishing was good this weekend, and we received a few more decent reports from today. If we don't get blown out by the rain forecasted for tonight, the fishing should be great this week! Unfortunately, the season isn't going to last much longer, so get out there as soon and as often as possible!

Another nice whitie on the Scott L2H 11' 5wt switch rod!

Locked and loaded--the McFlyShop boat rack full of Scott rods ready for some white bass action!
---