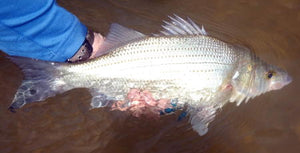 Twin Bridges - April 2, 2012
White bass!
Over the past couple of weeks, the white bass fishing has been great in the Twin Bridges Area! Both Richland Creek and the White have been providing good action for whites, walleye and hybrids! Clouser Minnows in bright colors like chartreuse are still working well, but over the last couple of days (as the water has cleared) grey and white as well as all white Clousers have been hooking the most fish. It won't last long, so be sure and take advantage of this local fishery while you can!
The things we do to catch a few fish!
The walleye bite has been very good this year as well!
Letting the D-Loop form on the new Scott L2H 11' 5-weight switch rod—my new favorite white bass stick!
This hybrid made the reel scream and put a deep bend in the new Scott L2H Switch rod!
---