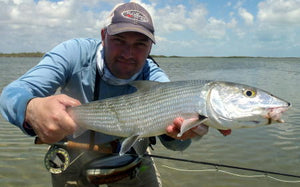 Pesca Maya Hosted Trip 2011

Nestor, Miguel and I with an Ascension Bay permit!

 William with a nice Ascension Bay bonefish!

Chris with one of many tarpon he has caught on our Pesca Maya trips! For the last several years, McLellan's Fly Shop has hosted a saltwater flats trip to Pesca Maya—one of our favorite saltwater destinations. Located on the Yucatan Peninsula along the northern edge of Ascension Bay, Pesca Maya is roughly two-and-a-half hours south of Cancun, at the end of a dirt road through the dense jungle of the Sian Ka'an Biosphere Reserve.

2009 was a good snook year. Ben and Chris hooked several back in the mangroves while they were looking for tarpon.

There are some BIG barracuda in Ascension Bay! Terry and Monty need a little help holding this one!
Wire leaders are a must for these guys!
You definitely don't want to lip 'em!
I cast to this bone while he was tailing in the turtle grass. When he saw my shrimp pattern, he hammered it into the sand like a jackhammer, with almost his whole tail sticking out and frothing the surface! One of the coolest takes I've ever seen!
Tim and William had a great trip with us in 2010. William hooked several nice tarpon like this one!
Palometa ready for release! Due to the sheer numbers of bonefish, permit, and baby tarpon in Ascension Bay, Pesca Maya is one of the best destinations for both novice as well as more experienced saltwater anglers. With miles and miles of hard white-sand flats, the wade fishing is absolutely spectacular, standing in shin deep water, sight casting to schools of feeding fish!
With miles and miles of white sand flats, Ascension Bay is a wade-fishing paradise!
Bonefish feed constantly on the skinny-water flats of Ascension Bay!
Chris with a skinny-water bone!
Ascension Bay bonefish average around one to two pounds.
However, there are plenty of big bones around to stretch out your backing and make your reel scream!
Joel with another fat boney!
Bonefish love shrimp!
In addition to the superb bonefishing, Ascension Bay is also one of the best places in the world to chase Permit with a fly rod, and the baby tarpon fishing can be very good as well!
To maximize fishing time, we eat lunch out on the flats. Iguana Island is a nice, shady spot for a lunch break.
One of Iguana Island's namesakes.
Wildlife is abundant in Ascension Bay. Pelicans and frigate birds are seen everyday.
Dolphins and giant sea turtles are also seen on a regular basis.
The lodging at Pesca Maya sits right on a pristine, private beach!
The view from the main house is spectacular!
And there's no better way to cool off after a long day on the flats than a refreshing dip in the ocean!
Especially with a cold cerveza or margarita!
After a quick shower and another cold cerveza….
….or another margarita….
….it's time for a delicious dinner….
….and more fish stories!
After dinner, it's time to tie more flies….
….re-rig rods, and get ready for another awesome day on the flats! Another great feature of Pesca Maya is their unique apprentice guide program. With a head guide and an apprentice guide in each boat, each angler gets one-on-one attention while wade fishing, and another set of trained eyes to help spot fish while fishing from the boat!
Chris, Ben and Dawrin rigging up and discussing the best fishing options for the day ahead!
Assistant guide, Freddy, back on point in the Panga already looking for the next school of fish!
Monty hooked up in the panga!
Wilberth put William on a lot of nice tarpon!
Ben with one of many tarpon he's hooked in Ascension Bay!
Joel with a nice tarpon!
Pushing through the mangroves to a secret tarpon hole!
Ben with a tarpon he hooked way back in the mangroves!
Another nice tarpon!
Open wide!
Revived and ready for release!
Back in the mangroves, you never know what you might catch, snapper….
….snapper….
….CROCODILE!!!
On deck, looking for permit!
Ascension Bay—or as it's sometimes called, the Palometa Coast—is one of the best places in the world to fish for permit of all sizes!
Just a baby, but he'll grow up soon!
Pucker up!
Bill and Jeanne with a huge permit!
Until next year, boney, until next year! A huge thank you to the staff and all of the guides at Pesca Maya, we always have a great time and can't wait to get back down to Ascension Bay!
---