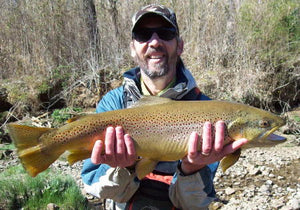 Norfork Tailwater - March 27, 2011
I just did one of those fish calculators that use length and girth to estimate weight. It was 28.75" long and estimated weight is 16-18 pounds. I caught it on the Norfork River on a size 16 Zebra Midge using 6X tippet. Dan M.
Wow, Dan, congratulations on an AWESOME brown, and on 6X tippet to boot! Thanks for the pic and the report!
---