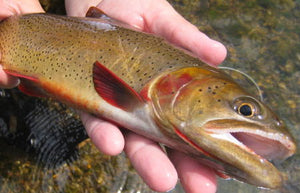 Norfork Tailwater - June 21, 2010
We fished the Norfork this past weekend, and had some spectacular fishing! We stayed on the White River, but woke up to low water on the Norfork, so since we were dying to fish some low water, we headed to the Fork. We dropped the drift boat in the water, and headed down to McClellans. It was the day of the cutthroat. We caught three very nice cuts, and their colors were truly beautiful. It was one of those days you always hear about but never quite believe--we lost count after one hundred fish. We hooked most of our fish stripping white wooly buggers, and white Arkansas Bead Heads. We were just short of the slam, as it is always tough to find a brookie at the end of the day. Justin F.
Thanks, Justin, for the pic and the report, and congrats on some spectacular fishing!
---