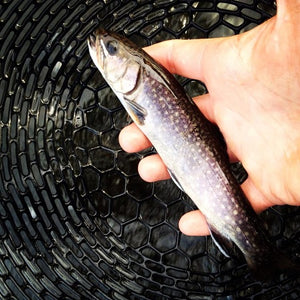 Norfork Tailwater - December 2012
Amidst all of the holiday hustle and bustle, Amanda and I decided to take a day off from the shopping crowds and local mayhem, so we hooked up the drift boat and set our sights for Norfork. This was only her second time with a fly rod in her hand, but I couldn't tell as she continued to cast, mend , and set as if she were born to do it. We floated from the dam down to the confluence in the low water, allowing us to hop out and fish some great riffles and runs throughout the river. We boated about 25-30 fish, including a lot of stout rainbows, Amanda's first brown, and a beautiful brookie. All that we lacked was a cutthroat, but Amanda was more concerned about the (very) big brown trout that she hooked and watched throw the hook early into the day...
If you are planning a trip, or trying to decide where to go for your next day of trout fishing, the Norfork is one of the best options along with the White below Bull Shoals. With the abundance of low water it was provided recently, it is a great place to hop around all day and catch tons of quality fish!
Thanks for listening!
Brock
---