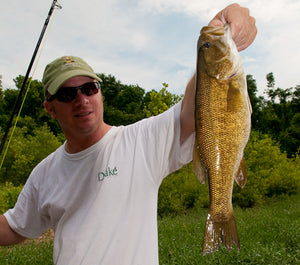 Kings River - June 29, 2009
Clouser minnow off a weed bed. First cast of the day!

Tom Bie, multi-media magnate owner/operator of The Drake magazine, wanted a taste of Ozark fly fishing, so Russell and I took him down the Kings in the Clacka.



Russell with a catfish that munched a Crazy Dad

Water levels were just about perfect, and we couldn't ask for better weather. All the fish were strong and healthy, and we caught them on everything from top to bottom.




Don't worry-- we showed him a crappy time so he won't spill the beans about how good we've got it around here.

Thanks for rowing once in a while, Tom. And sorry about your thumb, Russell...

--Todd
---