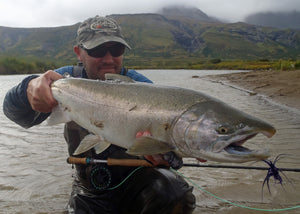 HOSTED ALASKA TRIP--2015
Our Alaska Wilderness Safari trip was a huge success this past September! This was our fourth hosted trip to the AWS Camp, and the fishing, the scenery, the helicopter flights—the whole experience was just as thrilling as our first trip! Epic really is the best word to describe it! If you are interested in joining us on our fifth hosted trip to the AWS Camp in September of 2017, we still have a few open spots. Call or email us at the shop, and we can fill you in on all of the details. Now for some of our pics:
This is probably my favorite pic of the trip! Karla didn't waste any time, hooking up to a silver salmon before the bush plane could turn around and takeoff for the return flight back to King Salmon! Photo Credit: Mike Cope
Karla with one of many big silvers she hooked during our week in camp.
Terry with a nice silver on his 7wt Spey rod!
This big buck absolutely hammered my Flash Fly! Glinting in the sun, he chased it down from the other side of the pool.
I never get tired of looking at bears….or bear prints. We didn't see that many bears this year, but I did get to watch a sow teach her two cubs how to catch salmon.
Terry and I with a Spey rod double!
The incredible view of the tidal flat from camp!
Terry with a nice chromer!
We only had one nasty weather day—which is to be expected in Alaska—but the fishing was still hot!
The rain pulled in a ton of fresh, mint-bright silvers from the North Pacific!
Sea lice! Fresh out of the ocean!
Another mint-bright fish!
It doesn't get any better—or fresher—than that!
Dan and Chris with a big silver from Yontarni!
<
Just a short hike up the no-name river that flows into the tidal flat in front of camp, there is some excellent Dolly Varden fishing.
Mike with a nice Dolly.
Matt with a Dolly that's starting to show its colors.
On calm days, we can venture out into the bay for some spectacular scenery and wildlife viewing.
A rare sight--a lone bull moose wandering the tidal flat.
Re-rigging for the next day—I never get tired of that view.
It wasn't our best year for top-water silvers, but we managed to Wog up a few each day!
Another big buck on my new favorite rod for silvers--the Scott L2H 11'6" 7wt Switch.
We should have stopped fishing on this triple, but we each had to make one more cast!
Using the caribou rack to dry out my waders after the last epic day of silver salmon fishing.
We had an awesome trip with a great group of anglers! Thanks so much to Rus, Jordan, Chris, Carl, Shawn, Karim and Sam for making our week in camp so enjoyable!
---