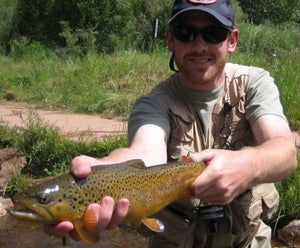 Frying Pan River, Colorado - August 11, 2009

Dad and I fished the Pan on Tuesday and Wednesday and had some great topwater action! (Actually, we drove out to Denver to visit my sister but of course had to make the "short" 3-hour jaunt to metro-Basalt:) When we arrived we got three different reports on the green drakes - one guy at Taylor Creek said they'd made it to mile 5, another at Frying Pan Anglers said they were 8 miles up, and yet another said they were hatching at the dam!




We spent most of our time in and around what the locals call "Old Faithful" (around mile 12) and at the gauging station (about a mile below the dam), and we only saw a handful of drakes. PMD hatches, on the other hand - while never extremely heavy - occurred sporadically both afternoons between noon and 5:00. The fish seemed much less eager to eat before noon, presumably because a full moon was allowing them to feed at night.




A.K.'s PMD Quill was the go-to fly, prompting a number of vicious strikes. Naturally we let two or three "big ones" get away but did manage to land a couple of 18-inchers and a handful of 16-inchers. One of the more interesting catches happened when a natural PMD tried to mate with my dad's drifiting artificial, at which point a brown, unable to resist these two flies attempting the impossible, struck violently. It was quite a sight!

David Schieffler
---