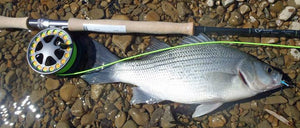 First White Bass Camp of 2014
We headed south on Sunday to find some warmer water and white bass, and while the white bass runs down south are definitely further along than they are up here, the cold snap and high water from this past weekend's rain slowed down the fishing considerably. That being said, we still managed to land several nice whites on switch rods, and I ended the trip with a big striper that peeled off line until he was well into my backing, making me chase him down river to try and catch up! Definitely a good first White Bass Camp of the season!
First fish on a new L2H 11' 5wt! McLellan's Fly Shop rule #1 for new Scott rods: Don't peel the plastic off the cork until you land that first fish! The L2H 11' 5wt is my absolute favorite white bass rod! In fact, I love that rod so much that I ordered a second one for this season--just in case I break it again in the middle of the white bass run, like last year.
This fat striper almost gave me more than I could handle on my new L2H 11' 5wt....almost.
This big boy had me well into my backing before I could get him turned!
With the nighttime lows dropping below freezing, we were glad we had the wood stove to take the edge off while we geared up for the next day.
---