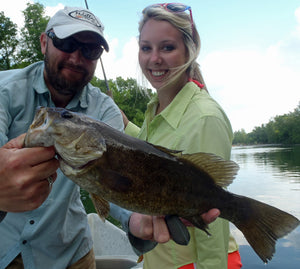 ELK RIVER - MAY 25, 2014
Dave, his daughter Ashton and I started the holiday weekend off right with a float on the Elk River, and the smallmouth didn't disappoint!
Dave with a nice smallmouth that jumped completely out of the water and took his Wiggle Minnow on the way back down!
It was Ashton's first time to chase smallmouth with a fly rod, but she got the hang of it pretty quickly!
Ashton with her first smallmouth bass on a fly rod--congrats Ashton, well done!
The river was in great shape and relatively uncrowded (at least by Elk River standards), so we took our time to stop and enjoy the scenery.
The Fire Tiger Wiggle Minnow was by far our best fly, and they're so much fun to fish!
After lunch, we went for a swim to cool off. We didn't have a floatie, so we decided to test the waterproof zipper on the new Patagonia Stormfront Sling Pack--not only was it watertight, but it held enough air to even float me and Dave down the river! A gear bag that doubles as a PFD--very impressive!
Wanting to pull her own weight, Ashton took a turn on the oars, and she handled the boat very well.
Only a couple hundred yards from the takeout, Ashton hooked the biggest smallmouth of the trip. It immediately wrapped her up in some boulders, and in spite of her dad and I yelling panicked instructions, she kept calm and brought the big smallmouth to hand!
Well done, Ashton!
---