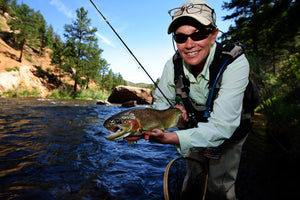 Colorado - June 28, 2010
I
was passing through Colorado recently on family business and prevailed upon a long lost fishing buddy to show me around the famous Cheesman Canyon. She lives nearby and has fished and guided the canyon for 15 years.
The canyon is as rugged and beautiful as they say, and the water is unbelievable! We happened to catch it just as the flow was dropping to fishable levels. I guess the word had not gotten out, because we pretty much had it to ourselves-- a rare thing around those parts.
We were mostly sight-fishing to big honkin' rainbows. I can't imagine how good this gets when the water drops even more. Thanks, Kay, for showing me a good time!
A
lso floated the Poudre River with this guy. Apparently he publishes a really cool fly fishing magazine called
The Drake
.
His fourteen-year-old dog is a
good boy
. I think he writes a column for that magazine.
The Poudre was roaring pretty good, but clear enough to fish; so we donned life jackets (not kidding) and dropped the raft in. Thankfully Tom is an experienced paddler, so I could relax (not really) and concentrate on fishing. Anytime I didn't need both hands to keep myself in the raft, I had my streamer in the water. And the browns were hungry that day, my friends. Sorry, no pictures from the Poudre. It was all I could do to keep
myself
from getting soaked by waves-- the camera stayed in the bag. Thanks for the ride, Tom! --Todd
---