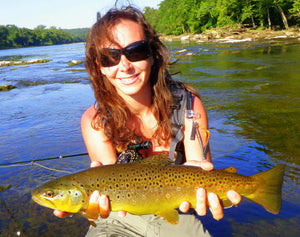 Bull Shoals Tailwater - July 7, 2010
Elizabeth with a NICE Bull Shoals brown trout!
With all of the recent low water below Bull Shoals Dam and Norfork Dam, the trout fishing has been absolutely spectacular! We've received many reports of one-hundred-plus fish days, including several quality browns, rainbows and cutthroats! The usual scuds, sow bugs and midges are all working well, but also have a good selection of mayfly nymphs and dries, as there are still some sulfurs flying around. Hare's Ears, Pheasant Tails, Mighty Mays, Skip Nymphs, and Parachute Sulfurs are all good flies to try. Also, try fishing soft hackles like a Partridge and Yellow or March Brown Spider on a slow swing through the riffles. It's time to start fishing terrestrials as well, so have a good selection of grasshoppers, ants and beetles in your fly box to fish along the grassy banks of the river. If you're fishing a hopper, be prepared for some explosive takes! Bottom line—head over to the White and the Norfork as soon and as often as you can, and take advantage of the wadeable water and fabulous fishing while it lasts!
---