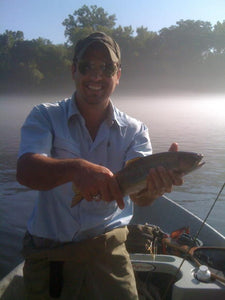 Bull Shoals Tailwater - August 3, 2010
This just in from Justin F...
Todd-- as you know we headed to the white this weekend. The flow and fishing was absolutely spectacular. We floated from White Hole to Rim Shoals on Saturday, which took 10 hours with brutal heat, but the fishing was hot too. The minimal flows allowed us to nymph in 5-6ft water. The fish were hitting natural colored patterns, with the exception of a Ray Charles, and the best patterns of the day were tan and natural San Juan Worms dropping down to an olive Hunchback Scud or blood red midge. Over the course of the day we boated four fish over 18 inches and the majority of the fish we caught were nice healthy browns.
Rim shoals also fished excellent on Sunday, as we got a few hours of NO water. It never ceases to amaze me how many LARGE fish are in such a small section of river. The hopper action at Rim was incredible, and over the course of the day we caught countless number of quality fish. Rim Shoals is the best fishing in Arkansas, and we cannot wait to return.
---