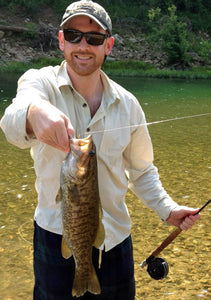 Buffalo National River - June 12, 2012
I just received this smallmouth report from David:
"Hey man, hope you had a blast in Mexico. I just got back from a slightly less exotic 24-mile float in the Lower Buffalo Wilderness Area (we put in at Rush and floated to the White River), and the smallmouth action was red hot! I tied on an olive Crazy Dad at the beginning of the trip and didn't switch flies for 3 days--unimaginative, I know, but the fish never quit biting it, so I just couldn't bring myself to change. Most of the brownies were in the 10-inch range, but I did manage to land this 17" bruiser!"
Thanks for the report, David! Sounds like an awesome trip! Nice brownie!
---