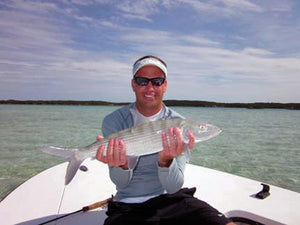 Bahamas - June 17, 2012
Thanks for the advice and helping me pick out some flies for the trip. Only got to go fishing one day but we did well, caught eight bones with three of those over five pounds and the largest around seven. Had others on and lost them and had shots at fish all day long with some double-digit bones around as well. Very challenging fishing having to make a good cast into the wind while the boat is moving and the hardest part not stepping on your line on the boat deck. Thanks again man! Scott F.
I recently received this report from Scott's trip to Exuma. Congrats, Scott, on some awesome bonefishing! However, next time, if you need someone to carry your bags or something, I'm available...just saying!
---